by Jaime Grijalba.
Since I've made my mind to see every film that opened in Chile that I wanted to see as soon as I could, I managed to watch all of the films that I wanted to see, and thus, delaying this list was useless and absolutely ridiculous. Of the 237 films that were released in 2015 in Chilean theaters, I managed to see 90 of them, and this is a list of the 10 that I liked the best. Since I think we should pay more attention to the 20 best films of 2015, that will come to this site down the line, I'll just paste some quick comments that I've done in other places and call it a day. This is, more than anything, a testament to the state of the Chilean market and release schedule, that will soon be plagued in 2016 by the best films of 2015. So, without much further ado, here are the 10 best films released in Chile in 2015.
10. Chappie (2015, Neill Blomkamp)
"The film doesn't partake in the blockbuster tradition of science fiction with explosions and big action set pieces, and although they do occur (specially in the las third) they're not as important as the themes and concepts that start to appear all along the film, themes like artificial intelligence, consciousness and what's the future of the human being in this world, a world that little by little is starting to be taken over by technology, and that, from one moment to the next, will have to live with the idea of 'artificial consciousness', a concept that sounds like science fiction, but that it's becoming more and more familiar. Maybe the machines will dominate us, or maybe they'll be gentle, like Chappie, but in some way with this film, in its closing, it gives us a possible answer about our future as human race."
9. Leviafan (Leviathan) (2014, Andrey Zvyagintsev)
"Ways to simplify a great movie and thus say that it's not accomplished:
· The Russian government is corrupt! And how!
· Christian/Biblical Allegory!
This film is so much more than that, it's more than anything a heartbreaking family drama that features some insightful commentary on the masculinity and its decreasing role in the modern society. This is, at times, like a better trial and execution on the male genre and masculinity than 'Force Majeure' (2014), as here there's no redemption, just the constant death of anything that what was once the established, just to be replaced not with a surge of the femininity that overrides everything, but with a robotic conservative view that ends in the total thought control. 'Jesus sees all'."
8. Tiempos malos (Bad Times) (2008, Cristian Sánchez)
"After seven years since its first screening, this epic 140-minute film finally saw a theatrical release in Chile. This film condenses the entire career of Sánchez, who's been making films since the 1970s, and what we have here is an explosion of poetic imagery through the way of machismo violence and the crime underworld being taken over by the absurdities of daily life. This is our 'Goodfellas' (1990) but better, the rise of a filmmaker to seemingly mainstream levels, but so advanced to our understanding of Chilean cinema that seven years had to pass for people to see it, and even then, people didn't understand it. This is a major work by a major Chilean filmmaker, and it deserves all the attention it can get."
7. Mad Max: Fury Road (2015, George Miller)
"I can't even start to explain how much of this is a surprise to me. Mainly because I remember seeing the first two Mad Max films and feeling completely underwhelmed if not absolutely angry at the fact that people liked it so much, since I found them uninspired and a constant barrage of nothingness. Now, people could say that this just fits perfectly with the same criticism, but there's mindless action and mindless action with (oh dear God) "ethics". I absolutely need to rewatch the first two Mad Max films and finally give the third one a fair shake, but in the meantime this is just FUN, with all capitals, FUN for anyone who sees it, FUN for what it is and what it wants to achieve. It's certainly one of the best action films I've seen in a while and certainly maybe the first film of 2015 that I actually actively want to watch again in theaters, something that hasn't happened to me in quite some time, and I mean this on my own, not repeat rewatches out of accompanying friends or family. Don't listen to the haters, don't listen to anyone, just go if you liked action films at some point in your life, and I must say that nowadays I'm warming up more and more to the genre due to the secret masters that appear here and there. Also, for some reason in the final chase I realized how much I want a new Jackie Chan film, a good one, maybe directed by Miller."
6. Deux jours, une nuit (Two Days, One Night) (2014, Jean-Pierre Dardenne, Luc Dardenne)
"It's never manipulative and it doesn't force you to take it the ways that the protagonist says it should be, you are still left with your interpretations, just like the understanding main character. There are some highly tense and at the same time emotional moments that fill you with dread and energy at the same time, it is the struggle of this woman that we see on screen that we feel so much about, it is that thing, those eyes, her figure, her strut as she goes finding new coworkers, it is that figure in the landscape that we feel emotional about, because she is in the middle of a crisis yet, even though it is hard for her, she tries anyway and she finds a way, thanks to those who support her and those who come around her to help."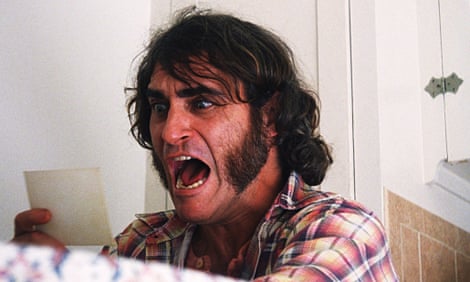 5. Inherent Vice (2014, Paul Thomas Anderson)
"There's a wont to disappear, a world that little by little, metaphorically speaking, is filling with vanishing and dead people, emblems of an era that isn't valid as a life style, a life that must adapt itself, just like Doc Sportello has to get used to the idea of becoming a private detective even though he clearly preferred to be drugged all his day at home. The rehabilitation of strong drugs starts to take over, and the historical context of Reagan and Nixon take part of this generalized scenario where a way of living isn't exactly accepted, but merely absorbed. It's the way that an era has to survive once it seems that it trembles with every second that passes, where the high standards drop dead, they ridicule themselves or get redeemed."
4. Le maison Nucingen (The Nucingen House) (2008, Raúl Ruiz)
"The greatness of this movie comes from the pure joy of seeing something as profound and playful as this played straight and not for the reference alone, as if it was just a select audience that was able to understand it all. I'm not supposing that I'm part of that audience, because I'm really dumb, but I see what he was aiming at, and I deem it fantastic, one of the most impressive Raúl Ruiz films using the tropes and the references to the modern and classic horror cinema, what a treat to hear that Ruiz was on the wave of new releases at this time. Gore people, gore is to be found here… and you can't say that from every legendary director making movies nowadays."
3. Birdman (2014, Alejandro González Iñárritu)
"It's been said before in some other places, but I think I need to say it, since it connects so much to my own experience with culture. 'Birdman' feels completely connected with Latin American narrative of the 20th century: Márquez, Carpentier, Borges, Cortázar, and many other exponents of magical realism. These short stories and novels are filled with characters that without any reason start flying, or short stories that are some kind of ouroboros, where the people reading a book inside the story start to realize that they are in the book themselves. There are direct references at times, like when the character played by Edward Norton is taking a sunbath in his expensive machine, and he is reading Jorge Luis Borges's short stories. I think not many could've made a movie like 'Birdman', and that's not because of the virtuosity of Iñarritu, or how much of a good filmmaker (or not, the judge is still out for me) he is; but the outsider perspective that he has of the whole show business is the only way that could've made it possible for anyone to make this movie the way that it's made, in the scathing manner that it takes every aspect of it, how much bitter spite Iñarritu must have towards "the way things are done here" is so evident in this movie that one must wonder at how this movie was made. I won't call it brave, or not even necessary, but damn, if people can't see the points that I'm making, I don't know what's wrong with me."
2. Boyhood (2014, Richard Linklater)
"The favorite, the critical darling, the wonder that no one can avoid from. This beast of a film that has been in the works for 12 years (but with only 40-something days of shooting), is a wonderful thing to look at, and while it doesn't achieve a momentum of what one could call gravitas towards a masterpiece in terms of 'What It Might Tell Us About Life', it is still one of the most relaxed and at the same time tense narratives that has ever graced American screens. It is the fact that we are watching the bodies grow and change what makes the film something wonderful, as if a magic trick was being put onscreen, with a narrative that goes in three hours and just manages to encapsulate not everything that constitutes boyhood, but what constitutes someone's boyhood. This is not about how relatable the movie might be, this boy's boyhood has nothing at all to do with the one I had, starting with the cultural landscape and the place where it comes from, and even if I'm not from the country the kid, I still manage to say it's a great movie, not because it reminds me of that time (other people might have that in their experience watching this movie) but because it's an emotional movie, with deep and consciously constructed consequences regarding the issue of growing up. It's wonderfully edited and maybe the best example of a film that should never, ever, be imitated."
1. El botón de nácar (The Pearl Button) (2015, Patricio Guzmán)
"Maybe with enough rewatches this might actually become my favorite Patricio Guzmán film ever. In the meantime I remain seated and wondering upwards to the great films that he has done so far, rating it even behind Nostalgia, that I rate behind The Battle of Chile, all masterworks from a master documentary filmmaker. Here he puts together concepts and images much more like in an essay film than in a pure documentary, facing facts, opinions and theories that are more akin with the mystic than with the real science world. Specially refreshing to see a director as old as him embracing the new technology, the computer generated imagery and the poetic montage of certain recent documentaries."
And here are 10 runner up films, in alphabetical order: 'Bridge of Spies' (2015, Steven Spielberg), 'Crimson Peak' (2015, Guillermo del Toro), 'Inside Out' (2015, Pete Docter, Ronaldo del Carmen), 'Maps to the Stars' (2014, David Cronenberg), 'The Martian' (2015, Ridley Scott), 'Naomi Campbel' (2013, Camila José Donoso, Nicolás Videla), 'La Once' (Tea Time) (2014, Maite Alberdi), 'Soshite chichi ni maru' (Like Father, Like Son) (2013, Hirokazu Koreeda), 'Star Wars: The Force Awakens' (2015, J.J. Abrams), 'The Walk' (2015, Robert Zemeckis).